Album Stream: Sarah Jaffe - The Way Sound Leaves A Room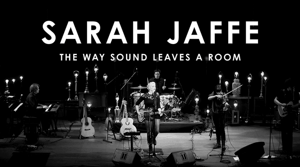 Sarah Jaffe's Suburban Nature was good—especially for a person that wrote a lot of the songs while she was still in high school. Jaffe made our 50 Best Albums of 2010 list, and now she's following it up with The Way Sound Leaves a Room, which is set for a Sept. 27 release. The album is a CD/DVD collection that is meant to bridge the gap between Suburban Nature and her upcoming 2012 album.
The Way Sound Leaves a Room includes covers and demos including a slowed down, piano-driven "Clementine." Covers include Drake's "Shut it Down" and Cold War Kids' "Louder Than Ever."
The DVD includes a live set from the Wyly Theatre and a documentary directed by Jon Todd Collins. The documentary follows Jaffe's songwriting process at home, which recently got a reboot when she picked up drums and bass and started writing.
"I want them to be mindful that my intention was just to introduce something that's different for me," Jaffe said about the collection in a press release. "It was an uncomfortable time for me, but I liked it—a lot."
Others Tagged With