Album Stream: The Barr Brothers - The Barr Brothers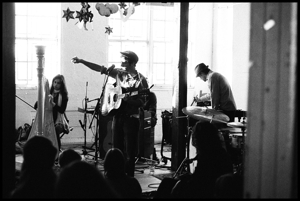 The Barr Brothers is a name you'll want to remember, something that won't be too difficult after listening to their self-titled debut album. Brad and Andrew Barr have been playing music together since they were kids, but it wasn't until Brad's chance meeting with Sarah Page that The Barr Brothers began to materialize. Page was playing harp in her apartment wall, and Barr was secretly learning the melody. He knocked on her door and ended up playing it for her. Soon, their friend and multi-instrumentalist Andres Vial was brought in to lend his wide array of expertise to the outfit, playing keyboards, bass, vibes, percussion, and singing. Their tremendous talents shine through in this album and capture an Americana folk that keeps up with today's demands for a fresh sound.
The album was cut in a boiler room in Montreal and includes guest musicians Andres Vial, Miles Perkin (Lhasa DeSela), Elizabeth Powell (Land of Talk), Nathan Moore, Jocie Adams (The Low Anthem) and Emma Baxter. The Barr Brothers won't be available until Sept. 27, but you can stream the entire album below.
Others Tagged With