Song Premiere: Little Silver - "Sleep Til Morning"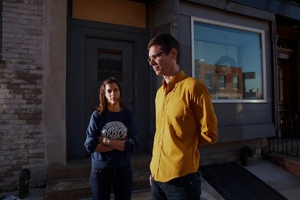 Little Silver Erika Simonian and Steve Curtis aren't new to the music scene. Simonian, known in the New York City songwriters circle, and Curtis, for his work with the band Hem, have both been active for over a decade. They prove themselves on their debut EP, The Stolen Souvenir, where they are joined by David Tarica and Ray Rizzo to complete the haunting songs and touch on experimental and rock and roll sounds.
"Sleep Til Morning" can be found on the EP along with four other great tracks.
The Stolen Souvenir
, co-produced by Phil Palazzolo (New Pornographers, Ted Leo) and mixed by Brandon Eggleston (The Mountain Goats, Josh Ritter) is available now on the Record Park label.
This fall, Little Silver plans to tour and begin recording their first LP.
Others Tagged With