Album Stream: Deer Tick - Divine Providence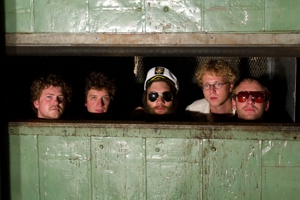 If you're not familiar with alt-country outfit Deer Tick, you really don't have much of an excuse. In the past five years, the band has been hard at work, constantly on tour when they weren't busy releasing three EPs and three full-length albums. Now, there's even more of a reason to keep Deer Tick on your radar with the release of their fourth studio album, Divine Providence.
As the name suggests, Deer Tick's latest record was recorded in the band's hometown of Providence, R.I., and fans can expect a louder, more energetic sound from the band that more closely resembles their raw sound live. Some of the credit for this excellent sound has to go to producers Adam Landry and Justin Collins, who were behind the debut album from Middle Brother, an effort that featured lead guitarist John McCauley's along with Delta Spirit's Matthew Vasquez and Dawes' Taylor Goldsmith.
Divine Providence will be released on Tuesday, Oct. 25—stream the full album all this week in the player below.
Others Tagged With