Album Stream: Rachael Yamagata - Chesapeake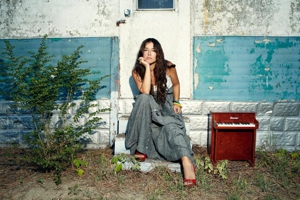 The way Rachael Yamagata's latest album, Chesapeake, was recorded sounds ideal.
"I am in the studio," she said in a press release. "And when I say studio, I mean (Liz Phair and Dave Matthews Band producer John) Alaiga's house that we've spent weeks converting into a studio. We shipped gear, borrowed microphones, amps, guitars, and a grand piano that's living in his bedroom (because that's where we get the best sound)."
But the recording situation didn't come about easily. The album was financed by Yamagata through a PledgeMusic campaign, with her fans helping her raise the money to release the album. But that doesn't mean it wasn't a comfortable recording process — the instrument-stocked house was also where the musicians grilled, swam, hung out and did dishes together. But it was also filled with Yamagata's "dream team" of musicians, which included musicians that played with John Mayer, Yo La Tengo and Sia.
"The players are my dream team, the kinds that have taken years to find and make history with," she wrote. "We've been saying ' there's a lot of love in the room' and there must be because schedules have been routed, carpools arranged — anything to help a girl now financing her own career full throttle."
The album, as Yamagata explains, is deep and filled with humor. The single, "Starlight," is a shifting, layered track with Yamagata's raspy voice leading the way before going into an unexpected hooky chorus. You can take a listen to Yamagata's Chesapeake here.
Others Tagged With