Album Stream: First Aid Kit - The Lion's Roar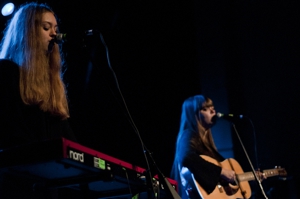 If First Aid Kit hasn't hummed their way into your consciousness, you've been ignoring some pretty big names in music (and, apparently, ignoring us as well). After their critically acclaimed debut LP The Big Black & The Blue last year, Stockholm-based sisters Klara and Johanna Soderberg went on to work with Jack White to record covers of Buffy Sainte-Marie's "Universal Soldier" as well as blues classic "It Hurts Me, Too." The songs were released on a Third Man Records' Blue Serious seven-inch.
However, their haunting harmonies weren't contained to White's Nashville recording studio. The songstresses spent 2011 touring with Bright Eyes as well as fellow Swedish-success-story Lykke Li, capturing fans city by city with their melancholy tunes and stunning stage presence.
Now, the band expands on a landmark year with their upcoming sophomore release, The Lion's Roar. With the help of producer Mike Mogis (Bright Eyes, Monsters of Folk), the family musical outfit expanded their sound to include their father on bass and a colorful cast of outside musicians. The final track on the album, "King of the World," is a magnificent finish boasting a final verse from Conor Oberst, as well as accompaniment from the Felice Brothers. Essentially, fans of music will be fans of First Aid Kit.
The Lion's Roar will be released on January 24 on Wichita Recordings, but in the meantime, you can take a listen in the player below.
Others Tagged With