Album Stream: Bhi Bhiman - BHIMAN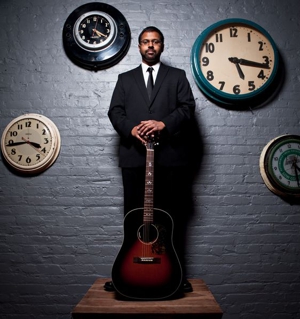 San Franciscan Bhi Bhiman's album BHIMAN is an anthem that is rooted in the history of American music. Bhiman's craftsmanship is to be understood—his ethereal bellow and earthy lyricism draw a response to the bounty of characters he sings in perspective of, something he does with ease.
Track titles like "Guttersnipe," "Ballerina," "Kimchee Line," "Eye On You" and "Take What I'm Given" describe the lives of easy to live rednecks, railroad hobos, prisoners and jealous lovers. These character perspectives are so accurately diverse that BHIMAN becomes eerily reminiscent of Walt Whitman's classic poem, "Song Of Myself" in which the narrative "I" becomes fluid testimonies of layered perspectives on an American life. These characters, though each in Bhiman's distinct voice, transcend their own voices, yarns, and yawps to reveal an irrefutably unique self-aware record.
It's through these folk testimonies that the album finds its cohesiveness. BHIMAN is a feast. Track after track is fulfilling, evocative and tender in all the right spots. The album is just as much about the tonality as it is about the lyrics. These two elements are brought together with soulful ease, sprawling style, and compelling stories in a full 11 tracks.
Listen to BHIMAN, out today, in the player below.
Others Tagged With