Video Premiere: Rodrigo y Gabriela Area 52 Trailer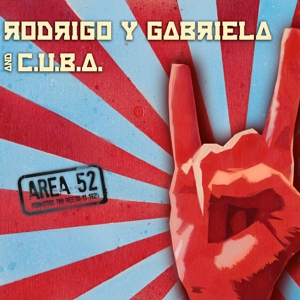 Fancy-fingered Mexican guitar duo Rodrigo y Gabriela will release their fifth studio album Area 52 on January 24 via ATO. The eagerly anticipated follow-up to 2009's 11:11 represents a new opportunity for the group, though.
Recorded entirely in Havana with a 13-piece Cuban ensemble collectively known as C.U.B.A., Area 52 will include nine of the group's favorite original songs rearranged for orchestral performance.
According to lead guitarist Rodrigo Sánchez, "The album is called Area 52 because we felt like Mulder and Scully approaching this—it was just a crazy idea, to see if a big Cuban band could play our music, a step in the dark. We knew it was out there, everyone has heard of Area 51, but we wanted to take it a little further."
Area 52 is the duo's first studio-recorded collaboration with other musicians and the record is certainly full of international influences. In addition to Rodrigo y Gabriela's own Mexican heritage and the Cuban perspective imbued through the orchestra and recording setting, other recognized musicians include bassist Carles Benavent from Barcelona, Spain (who has performed with Miles Davis), British/Indian sitarist Anoushka Shankar (Ravi's daughter), Cuban percussionist Samuel Formell (Los Van Van) and American drummer John Tempesta (The Cult, Testament, White Zombie).
Rodrigo y Gabriela will perform 10 dates in the United Kingdom, Europe, and United States with C.U.B.A. to support Area 52. Check out the schedule on their website and album teaser—full of everything from hand claps to flute solos, and of course, raging guitar lines—below.
Others Tagged With