Album Stream: Eisley - Deep Space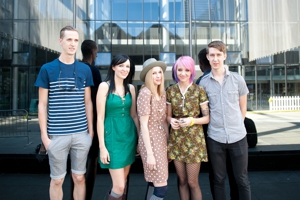 They've been writing songs and playing together since childhood, but Texas indie-rock band Eisley's fan base has grown considerably over the years. The group had an exciting 2011, starting out on tour with Rooney, releasing their third full-length album The Valley to positive reviews in March and closing with their first national headlining tour. This year looks to be equally as exciting with the release of a new EP, Deep Space.
"I feel musically and lyrically that this is a project for Eisley fans," guitarist and vocalist Sherri Dupree-Bemis. "I hope fans can hear that, and feel the love that we're trying to give them on this EP."
The entire project was recorded in their own homes. Andy Freeman, the mixer behind The Valley, flew in with a full set up. It was also the band's first record without an official producer, which allowed them to expand artistically.
"This was the first time that we got to record in our own homes, without an official producer, so it was a new and interesting experience for us." Dupree-Bemis says. "It was the most conducive environment to being creative that I've ever been in… I would love to do it again."
Not only was the atmosphere for the recording of the album different, the songwriting process for Deep Space EP was a less emotionally draining experience than on The Valley.
"It really is kind of a different project for us in the sense that on the last record, everyone was kind of just emotionally wrecked," Dupree-Bemis explains. "This record was just, you know, everyone had kind of come to a really happy place in our lives. People remarried, and just were happy. We were able to just write without having to get any kind of specific feeling out."
One of the album's highlights is the title track "Deep Space," which tells the story of a couple that goes to live in outer space together.
"One of my favorite things to do is just make up a short story and put it to music," Dupree-Bemis says of the songwriting experience. "That kind of stuff is really fun for me. I think an EP, especially, is a good place to get some of that stuff out that's just totally whimsical and fun."
Pick up Eisley's whimsical EP on Tuesday, Feb. 14 (out via Equal Vision Records). In the meantime, you can stream it in the player below.
Others Tagged With