Album Stream: Geographer - Myth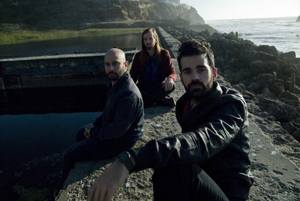 The craziest thing about indie-rock trio Geographer is that their music seems equally comfortable in such disparate venues as wild dance clubs and quiet coffee shops. With an unusual lineup consisting of Mike Deni (vocals, synth and guitar), Nathan Blaz (cello) and Brian Ostreicher (drums), the San Francisco group gathers influences from a number of musical sources, all of which can be heard on Geographer's forthcoming album, Myth.
Deni's falsetto wavers over his synth beats and buzzes like in the lead track "Life Of Crime" and "Lover's Game." Meanwhile, Blaz infuses modernity into his classical cello (he's even been know to play an electric instrument and augment it with effects pedals when performing live), which can especially be heard in the outro of the up-tempo "The Myth of Youth" and ballad "Vesijarvi." The band teamed up with producer Eli Crews and mixer Chris Zane, who have collectively worked with other indie successes like tUnE-yArDs, Deerhoof, Passion Pit, Holy Ghost! and Tokyo Police Club.
Although Geographer released its debut album Innocent Ghostsin 2008 and an EP called Animal Shapes in 2010, the band signed to Modern Art Records last year. Myth, their second full-length album, drops Feb. 28 and you can stream the exclusively stream the album below.
Others Tagged With