Album Stream: Now, Now - Threads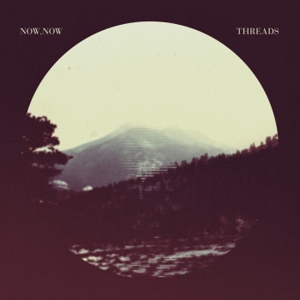 Minneapolis-based trio Now, Now's first album on Chris Walla's Trans-Records isn't necessarily a concept record, but there is a heavy theme of life's balance and patterns that weaves throughout the 12 songs. The three friends explored the world around them in a confident, yet fragile way that produced what eventually became Threads.
"We were just trying to figure out the connection between a lot of things," singer/songwriter Cacie Dalager explained even though she can't precisely point out what that connection is. "I've been asked [what it's about] like 30 times and every times I think of something new."
Her vulnerable vocals and the ambient vibe that she constructs alongside Jess Abbott (guitar, vocals) and Brad Hale (drums, synth) are eerily reminiscent of Metric, but Now, Now evokes more cerebral emotions that allow the listener to become engulfed in the sound.
The process for Threads started over four years ago before, but the majority of the record was written in the past year before heading to Vancouver, BC to record with Howard Redekopp. The process, which all three members were very heavily involved in, resulted in an album the band is exceptionally proud of and feels that the title track is the perfect representation of the band as a whole.
Paste Magazine and Spotify will be Now, Now's Threads—stream the album at Spotify.com.
Others Tagged With