Album Stream: Tim Fite - Ain't Ain't Ain't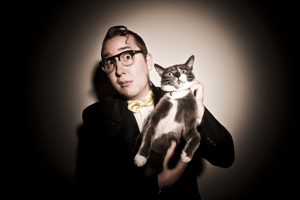 Tim Fite's final installment to his "Ain't" trilogy will be released on March 6th under the name Ain't Ain't Ain't. In the past, Fite searched the dollar bins at record shops and used tracks from those records as samples for his music. He has switched things up a bit this time and created his own samples with friends. In addition to creating his latest album, Fite has also exhibited his artwork all over the country and recently been selected for the Brooklyn Philharmonic Outside-In Fellowship for 2012. The fellowship pairs a Brooklyn musician with a classically trained musician to create a new orchestral arrangement.
While Ain't Ain't Ain't won't be out in stores until March 6, you can stream the album below. In addition, watch a video featuring Fite and his friends discussing his work ethic.
Others Tagged With