Video Premiere: Katie Costello - "No Shelter"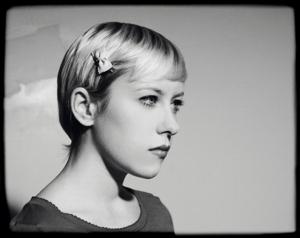 Katie Costello doesn't just evoke her sweet feminine voice—she's got an endearingly quirky sense of humor that matches it.
For her 2011 release Lamplight, Costello featured poetic lyrics, using them to show human condition as a thematic backdrop. Her tracks are endearing and clever, never touching too broad or too loose, yet commenting on what pain, joy and humor have to offer in life.
"I think of every album as a very particular period of time and thematic contemplation in my life," she explains about music. "I write what has happened to me and what I have felt, simply because I want to understand it. Songwriting is something that I happen to do and is not something that I regard with a great deal of personal responsibility. I thank the Universe for our human ability to create."
Lamplight aptly reflects the singer songwriter's ideals, something largely featured on her song "No Shelter"—a self-reflective track paired with the light hearted novella of a young couple working through their unraveling relationship. What's striking is that it's actually quite funny despite the heaviness the content brings.
Check out the video premiere of "No Shelter" below.
Others Tagged With