Song Premiere: Denison Witmer - "Brooklyn With Your Highest Wall"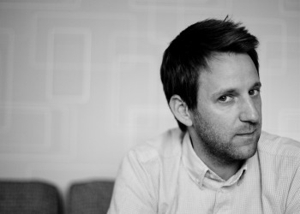 Singer-songwriter Denison Witmer got married, started a business, lost his father and found out he would become a father all in the cycle of writing, recording and producing his latest album. Those profound life experiences certainly shaped Witmer's forthcoming LP, an acoustic album that explores personal growth, loss and recovery. Asthmatic Kitty will release The Ones Who Wait, Witmer's ninth full-length LP, on March 6.
According to Witmer, The Ones Who Wait is about "patience and reverence. Being mindful and open to what you're experiencing. A desire to take hold of what's happening in your life, yet trusting the mystery of it enough to let go and participate rather than dictate."
The album originated as a collaborative EP between Witmer and producer/engineer Devin Greenwood (Norah Jones, Amos Lee). But as the music proliferated and the project grew, Witmer enlisted the help of a wide range of musicians including CJ Camerieri (Bon Iver, Rufus Wainwright), James McAlister (Sufjan Stevens), Charles Staub (Melody Gardot), Don Peris (The Innocence Mission) and Rosie Thomas to expand the sound of his raw, acoustic songs.
Check out the premiere for lead single "Brooklyn With Your Highest Wall," as well as the tracklisting for The Ones Who Wait below.
Tracklist:
1. Hold On
2. Brooklyn With Your Highest Wall
3. Life Before Aesthetics
4. Your Friend
5. Influence
6. Every Passing Day
7. Light On My Face
8. Two And A Glass Rose
9. One More Day
10. Cursing
11. I Live In Your Ghost
Others Tagged With