Album Stream: Onward, Soldiers - Monsters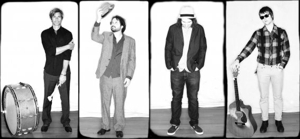 North Carolina's Onward, Soldiers will release its second album, Monsters, this coming Tuesday, Feb. 21 via Winoca Records.
The project began in 2007, when singer/songwriter Sean Thomas Gerard moved from Pittsburgh, Pa. to Wilmington, N.C. and fortuitously met drummer Kevin Rhodes, who also happened to be the co-founder of Winoca Records. The two recruited several local musicians to help write and record Onward, Soldiers' debut album Ghost in the Town in 2009.
That album got some good exposure, too, with tracks appearing on the teen drama One Tree Hill and a benefit album for Gulf-communities affected by the BP oil spill called Gasoline Rainbows.
Onward, Soldiers added guitarist Lincoln Morris and bassist Jarett Dorman to round out its lineup and now, the alternative-Americana quartet is ready to release its sophomore album. To coincide with their upcoming appearance at SXSW, Onward, Soldiers will set off on a U.S. tour. Check out those dates and stream Monsters below.
February
3 - Wilmington, N.C. @ Soapbox Laundro-Lounge / Record Release Party
10 - Briston, Tenn. @ Machiavellis
15 - Eureka Springs, Ark. @ Squid and Whale
17 - Tulsa, Okla. @ Hunt Club
18 - Stillwater, Okla. @ Eskimo Joe's
19 - Tulsa, Okla. @ Sound Pony
22 - Albuquerque, N.M. @ Sister
23 - Santa Fe, N.M. @ Cowgirl
24 - Manitou Springs, Colo. @ Ancient Mariner
25 - Boulder, Colo. @ Fox
26 - Denver, Colo. @ Cervantes Masterpiece Ballroom
27-29 - Aspen, Colo. @ Belly Up Aspen
March
1 - Durango, Colo. @ SKA Brewing
2 - Boulder, Colo. @ Shugs
3 - Denver, Colo. @ Walnut Room
8 - Dallas, Texas @ Adair's
9-11 - Denton, Texas @ 35 Denton Music Festival
15 - Fort Worth, Texas @ NOS Bar
16-17 - Austin, Texas @ SXSW
18 - New Braunfels, Texas @ Oma's Gruene's Secret Garden
21 - San Antonio, Texas @ The Falls
22 - San Antonio, Texas @ The Falls
23 - Baton Rouge, La. @ Red Star
24 - New Orleans, La. @ TBA
26 - Nashville, Tenn. @ TBA
28 - Knoxville, Tenn. @ The Well
29 - Asheville, N.C. @ Lexington Avenue Brewery
Others Tagged With