Download: The Lumineers - Tracks From The Attic EP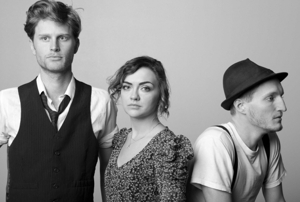 From the moment Wesley Schultz, Jeremiah Fraites and Neyla Pekarek united, an impressive spark illuminated their musical output. With their self-titled debut album out April 3, The Lumineers are releasing their Tracks From The Attic EP to offer a preview of what's to come.
The defining ingredient to the group's music lies within its woodland thematics. When you listen to the Denver natives' tracks you discover more than music—listening brings the joy and comfort of knowing friends, defines the simple life and creates positive self introspection. The album is rooted in experiences in nature, both natural and unnatural.
While each track on The Lumineers is precise, Tracks From The Attic contains four early takes of that hint at the band's formative process. The brooding-turned-contended lyrics of "Soundtrack Song" are introspective. "Flapper Girl" is romantic and shy, while "Elouise" is both a confession and promise for the young starving for the good life. An endearing sense of humor emerges in "Classy Girl" where the verse "classy girls don't kiss in bars like this" repeats on end.
The Lumineers' album is rich and encompasses all of its space and the space surrounding. It reminds us that its members are young, but that they are not naive. They understand their pain, inspiration and experiences. And it's lucky for us because without their maturity, we'd not have the option to enjoy the beauty they've created.
Dowload the Tracks From The Attic EP courtesy of Paste below in exchange for your email. You can also purchase their single "Ho Hey" from their upcoming full length on iTunes.
Others Tagged With