Video Premiere: Animal Kingdom - "Strange Attractor" [Homemade Studio Session]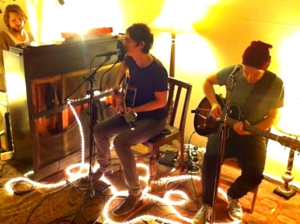 South Londoners Animal Kingdom first burst out onto the European scene with the release of their 2008 debut, Signs and Wonders. Their grand scale synths and momentous harmonies proved the band knew how to make catchy atmospheric jams.
Now the band is set to release their yet-to-be-titled sophomore effort, which was produced by David Kosten (Bat For Lashes, Everything Everything). Animal Kingdom has already unleashed their first single onto the world with "Strange Attractor."
The trio performed and recorded a stripped-down version of the single that showcases the fact that though they have a large sound, they can scale it back for an intimate experience. Check out Animal Kingdom's Homemade Studio Session performance of "Strange Attractor" and listen to the studio version below.
Others Tagged With