Video Premiere: Plants and Animals - "Lightshow"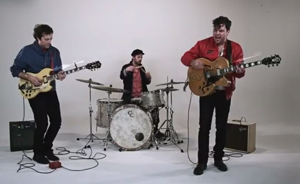 Canadian trio Plants and Animals' third full-length album, The End of That, dropped today via Secret City Records. While the album starts with the acoustic "Before," and mid-tempo title track (listen to it all right here), Plants and Animals' first single "Lightshow" offers a nice change of pace with two crunching guitars and crashing cymbals.
The video for "Lightshow" is a captivating, minimalistic affair. The band plays in a clinically white room while two men in lab coats seem to be monitoring the digital EQ overlays strategically placed above each band member and instrument.
Check it out below:
Others Tagged With