Album Stream: Yellow Ostrich - Strange Land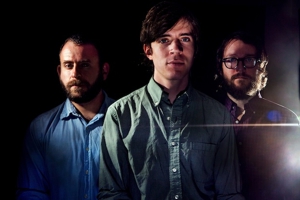 Yellow Ostrich's eagerly anticipated sophomore LP represents a distinct evolution for the band. In fact, Strange Land actually saw Yellow Ostrich become a band.
"The Mistress was a guy in a bedroom," said singer and guitarist Alex Schaaf. "Strange Land is a band. In a slightly bigger room."
Schaaf constructed a masterful debut album, 2010's The Mistress, just from writing, recording and looping tracks by himself. But on his new record, Schaff enlisted the help of drummer Michael Tapper and multi-instrumentalist Jon Natchez (who embellished the album's sound with an assortment of 11 different types of horns). The band members produced the album themselves and Beau Sorenson (who has worked with Death Cab For Cutie and Sparklehorse) engineered it.
Strange Land is out March 6 via Barsuk Records. Check out the exclusive stream of the album and Yellow Ostrich's spring tour dates below.
This stream is no longer available.
March
3 - Allston, Mass. @ Great Scott #
4 - Buffalo, N.Y. @ Mohawk Place #
6 - Cleveland, Ohio @ Beachland Tavern #
7 - Pontiac, Mich. @ The Pike Room at The Crofoot #
8 - Chicago, Ill. @ Empty Bottle #
9 - Madison, Wis. @ Der Rathskeller &
10 - Minneapolis, Minn. @ 7th St Entry #
11 - Milwaukee, Wis. @ Cactus Club #
15-19 - Austin, Texas @ SXSW
19 - Tucson, Ariz. @ Solar Culture
20 - San Diego, Calif. @ Soda Bar
21 - Los Angeles, Calif. @ Bootleg Theatre
23 - San Francisco, Calif @ Bottom of the Hill @
24 - Arcata, Calif. @ The Depot at Humboldt State
26 - Portland, Ore. @ Mississippi Studios %
27 - Vancouver, British Columbia @ Media Club %
29 - Nampa, Idaho @ Flying M Coffee %
30 - Salt Lake City, Utah @ Kilby Court %
31 - Denver, Colo. @ Hi Dive %
April
2 - Omaha, Neb. @ The Waiting Room %
10 - Philadelphia, Pa. @ Johnny Brenda's ^
11 - Washington, D.C. @ Black Cat Backstage ^
12 - New York, N.Y. @ Mercury Lounge ^
May
27 - George, Wash. @ Sasquatch Music Festival
- # = with 1,2,3
- & = with 1,2,3 and Lower Dens
- @ = with Lost in the Trees
- % = with Howler
- ^ = with TEEN
Others Tagged With