Album Stream: RACES - Year of the Witch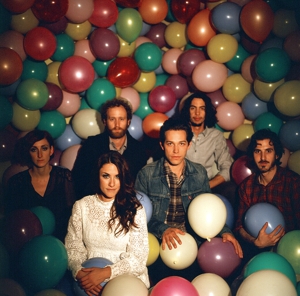 One of Frenchkiss's latest signees comes in the form of a L.A. sextet known as RACES (previously known as Black Jesus). The '90s alternative rock and '70s psych pop that bellows from the hands of Wade Ryff, Garth Herberg, Devon Lee, Breanna Wood, Oliver Hild and Lucas Ventura synthesizes the clouded line of grit and romanticism.
The boy/girl harmonies of Ryff and Lee are authentic and dreamy. Combined with the strong, guitar-driven indie-pop sound and catchy verb baselines, RACES consumes an unidentifiable space that melts energetic texture into the backdrop of psych-rock. Tracks such "Lies," "Song Of Birds" and "The Knife" from this debut LP merge classic style and progressive tones to celebrate the bands '70s and '90s influences.
The album reads like a plot driven novel. Track to track carries the listener through their day – "Year Of The Child" enriches a morning coffee and the one minute thirty-two second "Year Of The Witch" provides the track for late evening rendezvous.
Year of the Witch comes out on March 27—stream the album here all this week, or pre-order the album here.
Others Tagged With