Song Premiere: Sara Watkins - "When It Pleases You"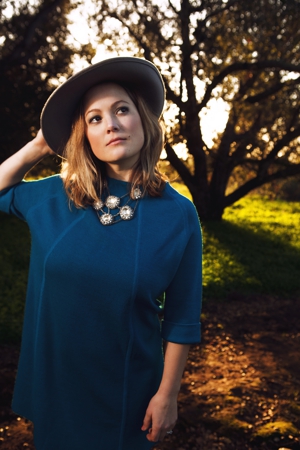 Sara Watkins's name is attached to so many A-list acts that it's hard to keep track of them all. The fiddler, guitarist, ukulele player, singer and songwriter got her start as the violinist in bluegrass outfit Nickel Creek in the late 1980s. She's recorded albums with Béla Fleck, the Chieftains, Ray LaMontagne. In the past few years, she's toured with indie favorites, The Decemberists and worked with Garrison Keillor on his cross-country Summer Love tours and A Prairie Home Companion broadcasts.
Somehow, Watkins has also managed to record two solo albums, the latter of which will be released May 8 via Nonesuch. The new LP, Sun Midnight Sun, features production by Blake Mills and will include guest appearances by Fiona Apple, Jackson Browne, Taylor Goldsmith (Dawes) as well as her older brother/Nickel Creek guitarist Sean Watkins. It will also include covers of Willie Nelson's "I'm a Memory" and The Everly Brothers' "You're the One I Love."
"When It Pleases You," the first single from Sun Midnight Sun is a nearly seven-minute sonic ramble through the perils of love. Though penned by Dan Wilson (who wrote many of the songs on Adele's 21), Watkins seems to extend her vocal reach at the most pivotal moments of the song. She stretches out lyrics like "you only come around to me when it pleases you" clearly and honestly, yet, when paired with soothing "ooohs" and layered pizzicato fiddle lines during the song's breakdown, the tune as a whole details a journey, rather than a reactionary response. Take a listen to "When It Pleases You" below.
Others Tagged With