Album Stream: Warren Haynes - Warren Haynes Band: Live At The Moody Theater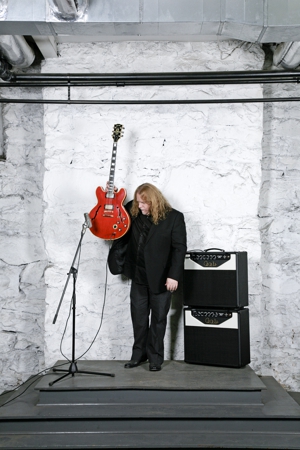 Singer and guitarist Warren Haynes has served in some of the most devoted, generation-spanning live acts of all time—The Allman Brothers band, The Dead and Gov't Mule. As a solo artist, Haynes has done pretty well for himself, too.
After the release of only his second solo studio album, Man in Motion, Haynes performed an epic live set in Austin, Texas full of old hits, new tracks, covers and special guest appearances. Couldn't make it? No worries, Hayes is releasing a three-disc (two CDs and one DVD) package entitled Warren Haynes Band: Live At The Moody Theater, featuring an entire two-and-a-half-hour show via Stax/Concord Music Group on April 24.
Shot in HD and recorded in 5.1 audio, Live At The Moody Theater features Haynes with his band—Ron Johnson on bass, Terence Higgins on drums, Nigel Hall on keyboards, Ron Holloway on saxophone and Alecia Chakour on vocals—playing a wide range of music. With special guests including the Groove Line horns and The Faces' Ian McLagan, the group delved deep into Haynes back catalogue and covered the likes of Jimi Hendrix's "Spanish Castle Magic," Steely Dan's "Pretzel Logic" and Sam Cooke's "A Change Is Gonna Come."
Live At The Moody Theater is now available for preorder at Haynes' website. Check out the track list below.
Set 1:
1. Intro
2. Man In Motion
3. River's Gonna Rise
4. Sick Of My Shadow
5. A Friend To You
6. On A Real Lonely Night
7. Power & The Glory
8. Invisible
Set 2:
1. Take A Bullet
2. Hattiesburg Hustle
3. Everyday Will Be Like A Holiday
4. Frozen Fear
5. Dreaming The Same Dream
6. Pretzel Logic
7. Fire In The Kitchen
8. A Change Is Gonna Come
9. Spanish Castle Magic
10. WHB Intro
11. Tear Me Down
Encore:
1. Your Wildest Dreams
2. Soulshine
Bonus Tracks:
1. Patchwork Quilt (Soundcheck)
2. Hattiesburg Hustle (Rehearsal)
Others Tagged With