Album Stream: Eight and a Half - Eight and a Half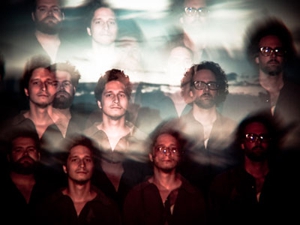 Toronto's Eight and a Half is set to release their self-titled debut album on Arts and Crafts on April 10. The trio—which is something of a supergroup with Broken Social Scene drummer Justin Peroff and The Stills' Liam O'Neil and Dave Hamelin—composed an album that blends analog synth sounds, Peroff's electro-acoustic drumming and Hamelin's recently-adopted, high-register vocal approach. The name comes from not only the 1963 film of the same title, but also from Hamelin's desire for another creative outlet.
"In 2007, I had a feeling that I wanted to do something else outside from being in The Stills," Hamelin told us. "I had this idea that I would call my band Eight and a Half. The idea stems from it being a movie, and I just thought it would be strange. When we started this band, me, Justin and Liam, we called it Eight and a Half and it stuck."
The album was tracked in Montreal at The Stills' studio in 2009, and recording was completed at Giant studios in Toronto in 2010. It was later mixed in New York at Electric Ladyland. Hamelin said the album was completely finished in July, which he's now excited to finally get to share with fans.
"We didn't have a manager, and now we have a manager, so there's more stuff happening," Hamelin said. "We needed more time for random stuff. Those kinds of things."
Although the album isn't out until April 10, you can take a listen to the band's synth-heavy debut below.
Others Tagged With