Album Stream: Maps & Atlases - Beware and Be Grateful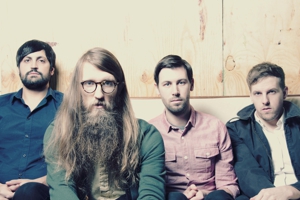 Maps & Atlases' early EPs featured the group pushing the technical limits of their abilities by embracing musical tactics like tapped guitar parts, syncopation and polyrhythms. But with their newest album, Beware and Be Grateful, Dave Davison (guitar/vocals), Erin Elders (guitar), Shiraz Dada (bass) and Chris Hainey (drums) have refined their early sound without entirely ditching it. 2010's Perch Patchwork, their first LP and release on Barsuk Records, showed a gradual change.
On Maps & Atlases latest record, the Chicago quartet continues their musical progression. "To us, the changes feel somewhat gradual. I guess there wasn't a specific inspiration to change, but that the album itself took on a life of its own. One thing that we tried to do was challenge ourselves in new ways with every track, which is something that started with Perch Patchwork. With this album, it was much more deliberate, as a desire to make sure we were moving into new territories. Each track, I think, has something that is deliberately challenging on an artistic, personal level, so that's one thing that made it different."
The band made Beware and Be Grateful at Omaha's ARC Studio, which enabled them to experiment with additional sounds and textures in a proper studio for the first time together. Elders explained, "it's always been a very guitar-centric band," but that their writing process began to change when they bought a bag full of battery-powered Casio keyboards at a Chicago farmer's market last year. Recording in this manner also allowed them to play with effects pedals they hadn't used very much before, specifically a wah pedal and a Red Witch Titan delay pedal.
Lyrically, Davison explores a wide terrain, shown by the pensive yet slightly foreboding album title. "There's a feeling of isolation or alienation that permeates the album," Davison said. "But at the same time, there's also a real consciousness…of connectivity and your environment that's on the album."
Beware and Be Grateful doesn't come out until April 17, but you can listen to the album below.
This stream is no longer available.
Others Tagged With