Album Stream: Various Artists - AthFest 2012 Compilation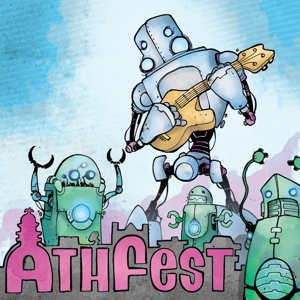 Being located in Decatur, Ga., we have the distinct advantage of living just a quick ride away from music mecca Athens, Ga., home to the University of Georgia and one of the country's most vibrant music scenes. One event that takes advantage of the town's multitude of burgeoning musicians is Athfest—a yearly music festival held in historic downtown Athens. The annual event hosts local stars as well as national names on s several outdoor stages and in-town venues.
One way the thriving festival supports the local scene? They release yearly compilation CDs, and this year's is packed with Paste favorites. From Athens staple Patterson Hood to electro-pop outfit Reptar to country-rockers Futurebirds, the compilation is just another reminder of the artistically-thriving city and the kind of music it produces.
You can stream the album in the player below. If you're around the Athens area (or in the mood for a road trip), be sure to snag a ticket to the CD release party this Thursday, May 3 at Little Kings Shuffle Club. The evening will feature compilation artiss Ruby Kendrick, Sam Sniper, and PAcificUV. Music begins at 9 p.m., and you can RSVP online.
AthFest 2012 Compilation Tracklist:
1. Patterson Hood & The Downtown 13 – "After It's Gone"
2. Ruby Kendrick – "Do Me Right"
3. The Corduroy Road – "All Around This Town"
4. Hope For Agoldensummer – "Stars Shine Down"
5. pacificUV – "Float"
6. Tumbleweed Stampede – "Lost Boys"
7. FLT RSK – "Before Night Falls"
8. Reptar – "City Of Habits"
9. Casper & the Cookies – "Drug Facts"
10. White Violet – "Everyday Is Listening"
11. Futurebirds – "Megachills"
12. 40th Street Candid Coal People – "Ambivalence In D"
13. Clay Leverett & The Buzzards – "Back To You"
14. Yo Soybean – "An Old War In The New South"
15. Sam Sniper – "Nothing Kills Me"
16. Dodd Ferrelle – "Rain Comin' Over The Mountain"
17. Ken Will Morton – "Hitting Ditches"
18. Vespolina – "I Don't Love You
19. Efren – "If My Heart Don't Fail Me"
Others Tagged With