Song Premiere: Cory Branan - "Bad Man"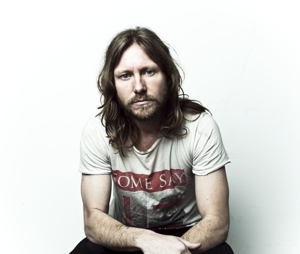 For his third full-length album and Bloodshot Records debut, singer/songwriter Cory Branan seems to channel his inner Bruce Springsteen and Tom Waits. On the lead single, "Bad Man," his gravelly voice helps drive a dark narrative of love, or at least something like it.
Mutt, set for a May 22 release, is Branan's follow-up to 2002's The Hell You Say and 2006's 12 Songs. After recording the album at San Francisco's Closer Studios and working with engineer/mixer Tim Mooney (American Music Club's drummer), Branan produced the album himself. Guests on the record include Ralph Carney, Tom Waits' horn player, as well as Luther Dickinson.
Branan is set to tour Europe and North America this spring and summer in support of Mutt. Check out his schedule and take a listen to the exclusive premiere of "Bad Man" below.
May
18 - Montreal, Quebac @ Underworld
19 - Champlain, Ontario @ Beau's All Natural Brewing
23 - Wiesbaden, Germany @ SCHLACHTHOF
24 - Cologne, Germany @ Underground
28 - Dresden, Saxony @ Ostpol
29 - Munich, Germany @ 59:1
30 - Zurich, Switzerland @ Eldorado
31 - Bezirk-Landstrasse, Austria @ Arena Wien
June
2 - Freilburg, Germany @ Walfisch
4 - Southampton, England @ Joiners
5 - Bristol, England @ The Croft
6 - Brighton, England @ The Prince Albert
7 - Manchester, England @ Tiger Lounger
8 - Glasgow, Scotland @ The Bay
10 - London, England @ Windmill Brixton
15 - Nashville, Tenn. @ The Basement
16 - Atlanta, Ga. @ The Earl
17 - Durham, N.C. @ Casbah-Durham
19 - Baltimore, Md. @ Golden West
20 - Cambridge, Mass. @ TT The Bear's
21 - Philadelphia, Penn. @ Milkboy
22 - New York City, N.Y. @ Mercury Lounge
23 - Pittsburgh, Penn. @ Club Café
24 - Toledo, Ohio @ Frankies
26 - Chicago, Ill. @ Schuba's
27 - Omaha, Neb. @ The Sydney
28 - Fort Collins, Colo. @ Surfside 7
29 - Denver, Colo. @ Lions Lair
July
1 - Boise, Idaho @ The Shredder
2 - Seattle, Wash. @ Tractor Tavern
3 - Portland, Ore. @ Doug Fir Lounge
5 - San Francisco, Calif. @ Thee Parkside
7 - Los Angeles, Calif. @ The Mint
8 - Fullerton, Calif. @ Slidebar
10 - San Diego, Calif. @Casbah
11 - Phoenix, Ariz. @ The Rhythm Room
12 - Roswell, N.M. @ Pecos Flavors Winery
14 - Austin, Texas @ The Mohawk (inside stage)
15 - Houston, Texas @ Rudyard's
18 - Fayetteville, Ark. @ George's Majestic Lounge
19 - Little Rock, Ark. @ White Water Tavern
20 - Memphis, Tenn. @ Hi-Tone Café
Others Tagged With