Song Premiere: Balthrop, Alabama - "Pretty Little Bird"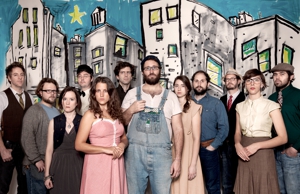 Lauren Balthrop's voice rings like a lullaby for the first verse of "Pretty Little Bird." Amid soft tinkling, she sings, "Oh, you pretty little bird, I want to be like you up in the air, flying free." It's a sweet, wistful sentiment for a lovely little folk-pop ditty.
As the second verse rolls around and the horn section kicks in, though, the mood turns sultry. Balthrop teases about bringing home nameless, faceless boys, while the rest of the 10-plus member group swell up in dynamic fashion.
Balthrop, Alabama, which started as a duo between Balthrop and her brother Pascal in rural Alabama, has now evolved into a Brooklyn collective of Southern folk traditions meshed with metropolitan hipness and pop sensibilities. "Pretty Little Bird," off the band's second full-length album and first studio effort, We Have Electricity, illustrates this contrast perfectly.
We Have Electricity is now available on the band's own End Up Records. Take a listen to Balthrop, Alabama's "Pretty Little Bird" below.
Others Tagged With