Song Premiere: Todd Snider - "Sangria Wine"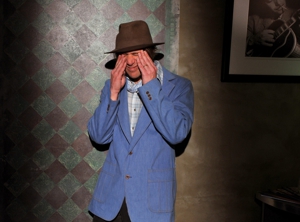 Following the release of his latest album Agnostic Hymns & Stoner Fables, Todd Snider will pay ode to one of his longtime musical influence with the release of his tribute album, Time As We Know It: The Songs of Jerry Jeff Walker.
"I've always hoped I'd stay around long enough to get to make a record of Jerry Jeff Walker songs," Snider said in a press release. "He's the guy I saw at 19 and decided to try to be like. His are the first songs I learned."
Walker, a heralded country singer/songwriter best known for penning "Mr. Bojangles," has known about Snider's admiration for years and was excited about the songwriter's interpretation of his work.
"He's been singing pieces of these songs to me for years," Walker commented about Snider's tribute. "It's about time….and he didum in the true gonzo tradition."
Time As We Know It: The Songs of Jerry Jeff Walker
is set to be released on April 24 and features Elizabeth Cook, Amy LaVere and production from Don Was. Check out "Sangria Wine," a cut off the forthcoming album that features Snider alongside Kix Brooks (of Brooks and Dunn), and pre-order the album
here
.
Time As We Know It: The Songs of Jerry Jeff Walker tracklist:
1. Vince Triple-O Martin
2. Jaded Lover
3. Moon Child
4. Takin' It As It Comes
5. Derby Day
6. Sangria Wine
7. Continuing Saga Of The Classic Bummer Or Is This My One Way Bus Ticket To Cleveland
8. Little Bird
9. Hill Country Rain
10. Railroad Lady
11. Laying My Life on the Line
12. Pissin' in the Wind
13. Mr. Bojangles
14. Will There Be Any
Others Tagged With