2012 Hangout Music Fest Sampler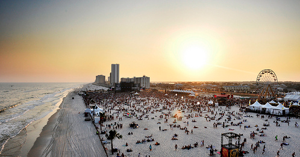 On May 18-20, thousands will gather to celebrate the return of Hangout Music Fest, which will host the likes of Jack White, Wilco, The Flaming Lips and a ton of other acts Paste is excited to see live. Our entire staff will travel to the beaches of Gulf Shores, Ala., for our third-consecutive visit to the festival.
Starting today, Paste and Hangout Music Fest are offering a free 15-song download sampler featuring artists headed down to Gulf Shores, including Dr. Dog, Gogol Bordello and String Cheese Incident. Stream the 2012 Hangout sampler below.
While general admission tickets for Hangout Music Fest are sold out, you can still purchase VIP tickets here.
2012 Hangout Music Fest Sampler Tracklist:
1. Delta Spirit – "California"
2. Devil Makes Three – "This Life"
3. Dr. Dog – "Lonesome"
4. Edward Sharpe and the Magnetic Zeros – "Man on Fire"
5. Flogging Molly – "Saints & Sinners"
6. Futurebirds – "Megachills" (Live)
7. G. Love – "Walk On"
8. Gogol Bordello – "Trans-Continental Hustle"
9. Hey Rosetta! – "Yer Spring"
10. Rich Aucoin – "Brian Wilson is A.L.i.V.E."
11. Sleeper Agent – "That's My Baby"
12. String Cheese Incident – "Rosie" (Live)
13. Switchfoot – "Selling The News" (Photek Remix)
14. The Lumineers – "Flowers in Your Hair"
15. The Revivalists – "Criminal"
Others Tagged With