Album Stream: The Sugarman 3 - What the World Needs Now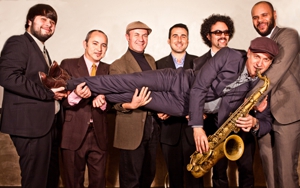 A lot has changed since Neal Sugarman last made a record with The Sugarman 3. Their last record, 2002's Pure Cane Sugar, was only the second record that Daptone Records had released. Over the past decade. The Brooklyn-based label that Sugarman cofounded has since developed a reputation as a neo-soul institution. Between running Daptone Records and becoming the Dap-Kings' resident saxophonist (playing with the likes of Amy Winehouse, Al Green, Mark Ronson and Eric Clapton), much of his attention has lied elsewhere.
Next week, The Sugarman 3 will return with What the World Needs Now—the trio's first record in 10 years. Sugarman, along with organ player Adam Scone and drummer Rudy Albin, are joined by other Dap-Kings (including fellow Daptone cofounder Bosco Mann). The trio picks up right where they left off, showcasing 11 of the finest instrumental funk-soul tracks released in the past few years.
While What the World Needs Now won't be available in stores on until next week, you can stream the record in its entirety below.
Others Tagged With