Song Premiere: Paul McCartney - "Another Day" (Remastered)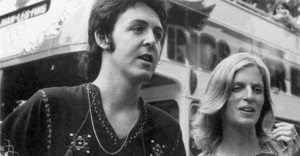 First released in 1971, Paul and Linda McCartney's RAM originally came out to mixed reviews. The Beatles had just broken up a few years prior and this was already McCartney's second solo album. Plus, it was the only LP to be credited to both Paul and his wife.
Over the years, RAM has since collected increased acceptance and praise, setting up the historic album for a deluxe reissue coming on May 22. This remastered edition of RAM comes in a number of different formats, many of which include goodies like b-sides, rarities and more.
One of the non-album tracks is a mid-tempo tune entitled "Another Day" that highlights the former Beatles member's smooth vocals and distinctive storytelling. Prior to RAM's release, however, "Another Day" and "Oh Woman, Oh Why" were pressed and distributed as McCartney's first post-Beatles single. While the two tracks didn't make the original release, both songs appear as bonus tracks on the forthcoming multi-disc special editions of RAM.
Check out "Another Day" streaming below.
Others Tagged With