Album Stream: Eleni Mandell - I Can See the Future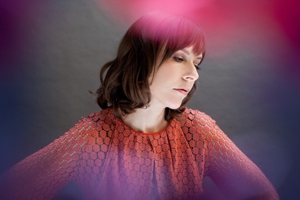 Los Angeles singer/songwriter Eleni Mandell will be releasing her eighth solo album, I Can See the Future, on July 10.
Produced by Joe Chiccarelli (The Shins, The White Stripes, The Strokes), the album was written and recorded in the aftermath of a trying period of Mandell's life, both personally and professionally.
"The fairy tale I thought I was going to have didn't happen," Mandell explains. "So I had to make something happen for myself."
Making something for herself included seeking help from a sperm donor after her boyfriend decided he wasn't ready to start a family, and forging ahead musically. Mandell ended up giving birth to twins, as well as I Can See the Future—a powerful collection of songs highlighted by her sultry vocals and poetic lyrics. The album centers around the idea of letting go of the life you've imagined for yourself and embracing the life and opportunities that you have been given.
I Can See the Future will not be officially released until July 10, but you can stream the album in its entirety right here, right now.
Others Tagged With