Album Stream: Hacienda - Shakedown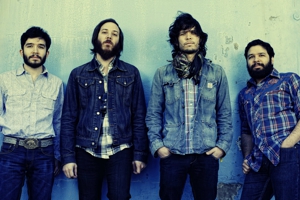 The Black Keys are no strangers to the production booths of some of their favorite bands. In addition to self-producing a good deal of their earlier work, drummer Patrick Carney has manned the boards for artists such as Churchbuilder and Tennis. Dan Auerbach has also had his hands in a number of different projects over the years, including albums by Jessica Lea Mayfield, Buffalo Killers and Dr. John. Most recently, Auerbach teamed up with San Antonio rockers Hacienda to help produce Shakedown, their third full-length release, due out June 19 on Collective Sounds Records.
Hacienda and Auerbach are natural collaborators. The band has toured with The Black Keys in the past, and even served as Auerbach's backing band, The Fast Five, during his tour to support his 2009 solo release, Keep it Hid.
"I've been a fan of Hacienda ever since the day they gave me their first demo," Auerbach says. "They have consistently impressed with their natural chemistry as a band."
It's this live chemistry that Auerbach came into the studio to harness, and upon listening to Shakedown, it's clear that Auerbach and Hacienda speak the same language. We happen to have the entire stream for you right here a week before it's released. It'll only take one listen to make you a believer, too.
Hacienda also will be touring throughout June and will be playing at the Hopscotch Festival in Raleigh, N.C. on Sept. 6. Check out the complete schedule below.
Tour Dates:
June
6 – Portland, Ore. @ Star Theater
7 – Seattle, Wash. @ Neumos
10 – Minneapolis, Minn. @ Triple Rock
11 – Chicago, Ill. @ Lincoln Hall
12 – Detroit, Mich. @ Pike Room
13 – Cleveland Heights, Ohio @ The Grog Shop
15 – Allston, Mass. @ Brighton Music Hall
16 – New York, N.Y. @ Highline Ballroom
September
6 - Raleigh, N.C. @ Tir Na Nog – Hopscotch Festival
Others Tagged With