Video Premiere: Marc Scibilia - "Bright Day Coming"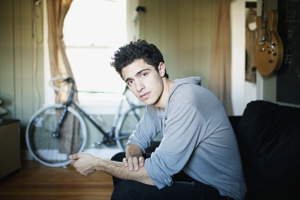 "My grandmother still thinks I am going to be a doctor. My mother calls and wishes I'd move back home to N.Y. My Dad leaves five-minute-long voicemails about how proud he is of me and usually asks (for the 1,000th time) how to get on YouTube to see my latest work." This is how Marc Scibilia describes himself, and the tone shows in his earnest, acoustic songwriting.
On his self-titled debut EP, the six tracks he's releasing are more reminiscent of his newfound Nashville roots than his New York upbringing. With touches of both Matt Nathanson and Amos Lee, Scibilia sings poignant songs littered with second-person verses that are aimed directly at the listener, touched with the slightest tinge of soul.
On the EP, he's backed by veteran musicians Michael Rhodes and Chad Cromwell, who between the pair have worked with everyone from the Rolling Stones to Bob Dylan to Radiohead. Marc Scibilia was released yesterday via Hickory Records, and you can stream it in its entirety below. Also, watch our premiere of his new video, "Bright Day Coming."
Others Tagged With