Field Recordings: Lisa Hannigan and Joe Henry's Audio Travelogue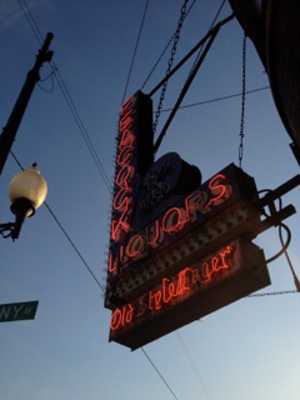 Page 1 of 6
Dear brothers and sisters,
As we are freshly disembarked on a three-week collaborative tour of select cities across North America—cities chosen for their hospitality, favorable climates, and distinct culinary opportunities—we thought it might be interesting to share a few sonic glimpses behind the curtain with you all as we go.
To that end, our aim is to record single-mic sketches— in hotel rooms, back alleys and upon loading docks…wherever we find ourselves—of songs with relevance to stops along our way: songs of our own invention that might have been provoked by location or covers of songs that continually ground us to a place.
We pledge no heroics, but instead hope to simply expand our stage beyond its apron. An official performance happens within the confines of an evening, but the impulse it reveals is fed and being constantly reimagined by the songs that move around and through us like weather.
Songs are our common vocabulary, after all, and give shape not only to formal pronouncements, but as well to every whispered aside and stolen laugh over coffee. And we want to keep the conversation alive.
Love to all,
Lisa and Joe
Seattle, Wash.
"Little Bird" by Lisa Hannigan
The final stop along our way, and alas, the last installment of our field recordings; we hope these grainy sketches have offered a satisfying window into our caravan.
And it is perfectly fitting that we conclude with "Little Bird"—a song of unique poetic stature within Lisa Hannigan's canon.
Having produced Lisa's album Passenger, which includes this number, Joe Henry offers this:
"I am frequently asked, 'just what does a producer do, anyway?' It is different all the time, depending on the artist and the circumstances of the music at hand; but in the case of recording 'Little Bird' specifically, what I did as a producer was to sit at the control board and cry as the performance went down, and then I said, 'stop'—simply because I believed the song had been perfectly articulated…had been offered up with its beautifully-cracked heart generously revealed. As a piece of writing, as a performance and as a recording, 'Little Bird' does everything I have ever wanted a song to do.
"It is the song to which I contributed the least, yet love the most."
On this field recording, Joe and Lisa trade the verses but share the choruses, seeking that special "third voice" that appears when two singers surrender their voices together in service to a song.
And a good metaphor, that is, for what we aspired to do on this tour: to become something unique to both of us. In the best moments of the best nights, we believe we put a collective foot into that beautiful river.
Recorded by John Smith in the kitchen of Brad's Swingside Café, in the Fremont neighborhood of Seattle, as we awaited an outrageous "last supper" before our final show, on June 24.
Lisa Hannigan and Joe Henry, vocals and guitars.
Others Tagged With