Video Premiere: Jaill - "Perfect Ten"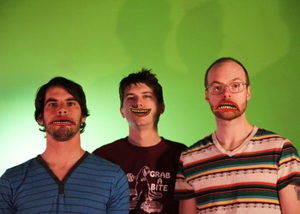 Jaill has a knack for being messy. Their new video for "Perfect Ten" runs amok with crusty pizza boxes and weeks-empty beer cans, taking this mentality to new levels.
Their sense of humor continues to shine blindingly through in their latest video. Set in the most colorful junkyard on earth, the clip follows a young glasses-clad man through his enrollment process into the "Distinguished Citizens Club," an illustrious society that requires you to rip up your clothes and pour condiments all over yourself.
Jaill's latest album, Traps, comes out today via Sub Pop. Check out the video premiere and tour dates below.
June
8 – Milwaukee, Wis. @ Bay View Bowl
9 – Green Bay, Wis. @ Green Bay Distillery
12 – Chicago, Ill. @ Reckless Records (Wicker Park)
14 – Madison, Wis. @ Exclusive Company
29 – Milwaukee, Wis. @ Summerfest
July
7 – Des Moines, Iowa @ 80/35 Festival
17 – Minneapolis, Minn. @ Triple Rock Social Club
21 – Vancouver, British Columbia @ Biltmore Cabaret
22 – Seattle, Wash. @ Capitol Hill Block Party
23 – Portland, Ore. @ Doug Fir Lounge
25 – Sacramento, Calif. @ Harlow's
26 – San Francisco, Calif. @ Bottom of the Hill
27 – Los Angeles, Calif. @ Echo
28 – San Diego, Calif. @ Soda Bar
Others Tagged With