Video Premiere: Milo Greene - "1957"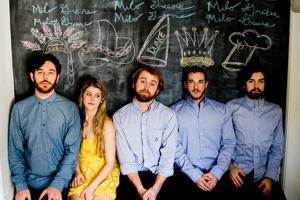 You may not have heard of Milo Greene yet, but you will soon. The Los Angeles-based indie-folk quintet describes their own music as "cinematic," and as lofty as that adjective may be, it's fully fits the group's infectious and uplifting tunes—ones filled with harmonies reminiscent of the Local Natives. Although their debut album won't be released until July 17, they've already toured with The Civil Wars and Grouplove.
In support of their upcoming album, Milo Greene has released a new beautiful and haunting music video for their single "1957," one that makes you want to crawl up and live inside of it. Filled with dark red hues, whether on beanies, wigs, typewriter tape or chipped nails, it is a video worthy of its melodic counterpart.
Others Tagged With