Video Premiere: The Infamous Stringdusters - "Don't Mean Nothin'"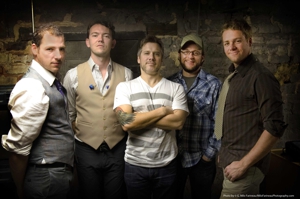 Charlottesville bluegrass rockers The Infamous Stringdusters released their latest full-length album, Silver Sky, earlier this year. Though known for their raucous live performances, the band's collective energy comes through in a big way on the new LP, particularly on the lead track, "Don't Mean Nothin'."
For the song's video, however, the Stringdusters congregated on the top of a parking garage to deliver a comically deadpan (but still highly entertaining) rendition of the song. Just remember not to expect so much stoicism if you get a chance to see them perform live.
"We recently took a few days off in Charlottesville to shoot some videos with our good friend/camera genius Tom Daly." band member Chris Pandolfi says. "'Don't Mean Nothin' was an obvious musical choice and the video concept kind of came to us on the spot, after setting up on the rooftop just before sundown. Duster collaboration and hi-jinx, together once again."
Check out the video for "Don't Mean Nothin'" below.
Others Tagged With