Album Stream: Baroness - Yellow & Green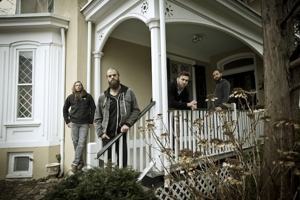 Finding success with both its freshman and sophomore albums, Savannah metal group Baroness took one year off—the first time in nearly a decade since they formed in 2003—and focused on what would be their third studio album, Yellow & Green. The band continues with the color motif that has defined its catalog, and with Yellow & Green comes an effort that's "hitting a different area of the musical spectrum," according to drummer Allen Blickle.
With that one year, the band wasted no time. If the shear quantity of songs isn't an indicator, their quality provides the strongest evidence. Yellow & Green avoids jarring transition between it's soothing acoustic tracks and power anthem rock songs and stitches together an seamless audio dissonance.
Baroness recorded Yellow & Green with co-producer John Congleton at Water Music Studios in Hoboken, N.J. The band, known for their self-inflicted grueling tour schedules, decided to approach this album with a "song first, performance second" mentality. That, however, won't stop them out on the road. According to the band's press release, Baroness isn't willing to stop touring until there isn't anywhere else to play.
But you don't have to wait for them to stop in your hometown. Listen to Baroness' newest release in the streaming player below.
Others Tagged With