Song Premiere: Gardens & Villa - "Gypsy"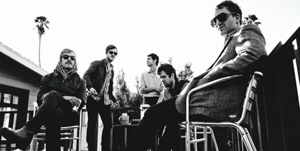 Fleetwood Mac covers have been streaming online for weeks now, from Antony's rendition of the iconic ballad "Landslide" to Lykke Li's take on a lesser known work, "Silver Springs." Today, Gardens & Villa share "Gypsy"—their contribution to the forthcoming covers album Just Tell Me That You Want Me: A Tribute To Fleetwood Mac.
For "Gypsy," the California-based quintet strips down the classic song before dousing it in a dreamy, electronic haze. For Adam Rasmussen, his love for Fleetwood Mac extends back to his childhood and has continued ever since.
"When I was really young (probably five or six… the age where you insist on wearing costumes in public on non-holidays), my mother gave me one of her most cherished cassette tapes… Rumors, by Fleetwood Mac," he recalls. "I felt an immediate connection with this band, even at such a young age. When we were approached to record a version of 'Gypsy' for the compilation we were all for it, as most of the guys in the band have an intimate connection with the music of Fleetwood Mac. It's sensitive and timeless. It was a beautiful experience. We're really thankful for this opportunity."
Stream "Gypsy" in the player below and listen to a handful of the other covers off the forthcoming covers compilation here.
Others Tagged With