Song Premiere: California Wives - "Purple"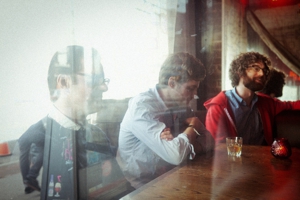 For many artists, music is the result of an arduous journey of self-realization. Few are born in the crib of determined musicians. The same could be said for California Wives' lead vocalist/keyboardist Jayson Kramer. In fact, less than three years ago Kramer was following of a much more clinical calling, even studying medicine at Boston University. But after an epiphany, Kramer discovered that music, which was a lifelong hobby, was really something more. He describes that moment as feeling like waking up.
Much like his job description, his musical taste evolved throughout the years. Kramer originally found inspiration in bands like Smashing Pumpkins and Oasis but developed a more electronic taste later with Aphex Twin and Autechre. Kramer soon teamed up with drummer Joe O'Connor, bassist Dan Zima and lead guitarist Graham Masell to craft the band's debut LP, Art History. Produced by Claudius Mittendorfer (Interpol, Neon Indian, Wild Nothing), the band recorded the record in New York, N.Y.
Their song "Purple"—tied together with a 16th-note pulse—contains clever hooks, melodies and phrases in just over two minutes. The lyrics are poppy and the keys adds an underlying texture to the track, making for a remarkably well-constructed, indie-pop number.
Art History is set for release on Sept. 4. Stream "Purple" in the player below and download the track here.
Others Tagged With