Video Premiere: Alberta Cross - "Magnolia" (Live)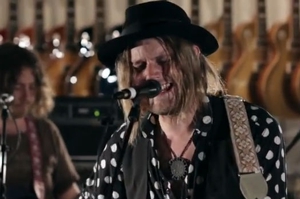 Brooklyn-based rockers Alberta Cross released their latest album, Songs of Patience, last week and immediately kicked off a three-month tour that stretches across the globe. Before embracing the life of jet lag and all-nighters, the rockers were able to make a pit stop at the Chicago Music Exchange and play a quick track off their new effort.
With musical accoutrements adorning the walls, resurgent drums introduce "Magnolia," the opening track from the Songs of Patience. Filled with nostalgic rock riffs and powerful vocals, the six-minute track is the perfect introduction to the band's blues-rock portfolio.
Watch the video premiere of "Magnolia" live at Chicago Music Exchange below.
Others Tagged With