Album Stream: Chamberlin - Look What I've Become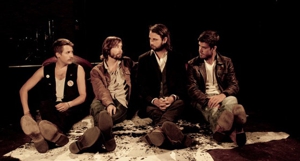 Chamberlin's latest EP, Look What I've Become, almost took the band's full collapse before it was complete. Last January, after a long year of touring and songwriting, guitarist and singer Mark Daly and guitarist Ethan West explained to the rest of their band that they wouldn't be appearing on what would be their next collection of songs.
"Suddenly," said Daly, "we found ourselves all set to record these new songs that the other guys hadn't been a part of at all. Personal tension aside, we hadn't rehearsed together in over six months and having worked out most of the arrangements already with [producer] Luke [Reynolds] on bass and keys, we were very worried that the music would suffer if we tried to force everyone in at the last minute."
What came out of the session were songs that dealt with some of these feelings, songs of "jealousy, despair and resentment," as the band describes. It even came through in a vocal line provided by Daly on "Jealousy."
"While recording the vocals, it really hit us that we had inflicted those same feelings on our band mates—or rather, our best friends," West said. "As Mark sang the chorus of 'Jealousy,' we avoided eye contact and waited for the moment to pass…kind of like two awkward, unfamiliar teens walking by each other in the hallway. He was singing the lyric, 'Look what I've become.'"
Through this sort of cathartic experience, the band has since regrouped, with members Eric Maier, Jamie Heintz and Chuck Whistler sticking around to tour on the album. All of the members are now working on a new full-length album, which is expected by early 2013. In the meantime, we've got an exclusive look at the EP, Look What I've Become, thanks to Rdio. You can take a listen below until it's release on Sept. 4.
Others Tagged With