Album Stream: Bill Fay - Life Is People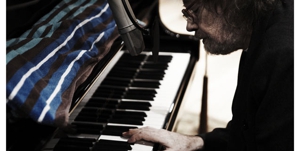 Like many cult songwriters, Bill Fay shouldn't be making music today. It's been over 40 years since his last album faded into the musical abyss, and while he never stopping writing, he certainly stopped sharing his music with a wider audience for years. His latest record, Life Is People, shouldn't exist. But it does, and it's a beautiful record that captures Fay's essence over 12 lush and poignant tracks—standing up and even surpassing his earlier work.
With outspoken support from artists including Peter Buck, Jeff Tweedy and Will Sheff, the English songwriter has managed to revive his career. As a result, Life Is People stands as Fay's first release since 1971, giving no indication that there ever an extended break between albums. From the triumphant "There is a Valley" to the stunning, minimal closer, "The Coast No Man Can Tell," his album encapsulates the same kind of sentiments that allured these songwriting greats in the first place.
He also returned Tweedy's favor, who covered his song, "Be Not So Fearful," in the acclaimed Wilco documentary, I Am Trying To Break Your Heart, by offering his own heartfelt rendition of "Jesus, Etc." The two songwriters also team up for a new song on "This World"—a resolved rocker that is one of the album's standout tracks.
Bill Fay's Life Is People comes out tomorrow courtesy of Dead Oceans, but you can stream his entire album in the embedded player below.
Others Tagged With