Song Premiere: Efterklang - "Hollow Mountain"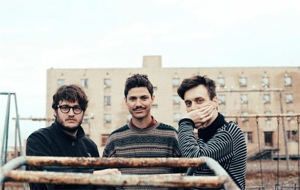 Last August, Efterklang traveled to Spitsbergen, Russia, as part of an nine-day audio expedition. At this abandoned settlement, which is located close to the North Pole and has slowly decayed since 1998, they amassed audio samples that would help shape their forthcoming album, Piramida.
Mads Brauer, Casper Clausen and Rasmus Stolberg didn't simply compile a series of field recordings. Rather, the band incorporated things like oil drums, glass bottles and what they describe as the "world's northernmost grand piano"—which can be heard on their new track, "Apples." On their fourth record, the band continues to craft uniquely inspired orchestral pop that undoubtedly captures a certain time and place.
Piramida is set to be released on Sept. 25 via 4AD, and the band will play its only U.S. show this year at the Metropolitan Museum Of Art in New York on Sept. 22. Watch the video for their opening track, "Hollow Mountain," below.
Others Tagged With