Song Premiere: Grandchildren - "Where's the Knife"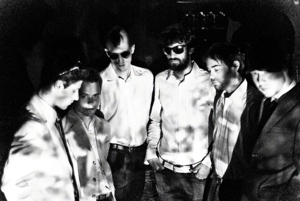 At first, Grandchildren was simply grandchild. Aleks Martray began the band as a solo project before meeting future bandmates Russell Brodie, Roman Salcic, Tris Palazzolo, Adam Katz and John Vogel. In their shared Philly home, the band slowly formed. Grandchildren: a new generation, the inheritors of culture.
In 2010, the band released their debut album, Everlasting. Their sound is self-described as electro-accoustic, with elements of orchestral pop and indie rock. While their old album focused on creating complex and atmosphere music, their upcoming album is rooted in pop. The album's first single, "Where's the Knife," is a soft-spoken track with a catchy vocal style reminiscent of Passion Pit.
Grandchildren will be opening for The Very Best on Aug. 12 at Johnny Brenda's. Check out their latest track below.
Others Tagged With