Song Premiere: Holy Ghost Tent Revival - "Alpha Dogs"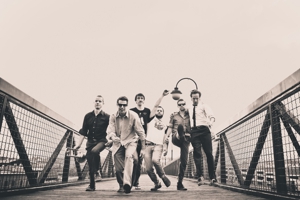 Holy Ghost Tent Revival have been playing music together for five years. In that time they have released two albums—2008's So Long I Screamed and their sophomore effort, Family. Since 2009, the band has developed a reputation as road warriors, averaging around 300 live performances a year across the eastern United States.
It might only be now, however, that the eclectic folk collective are really coming into their own. Their forthcoming album, Sweat Like the Old Days, features Holy Ghost Tent Revival at their most polished, which isn't to say its songs are necessarily 'clean.' The album is executed with a woozy sensibility, spot-on harmonies and the inclusion of horns that imbue a lively kick or a whimsical sense of longing. It might seem haphazard at times, but Sweat Like the Old Days is a tightly-knit, expertly crafted collection that proves that the band's relentless touring schedule has paid off in a big way.
Though the album won't be released until Sept. 4, you can listen to their standout track "Alpha Dogs" in the streaming player below.
Others Tagged With