Video Premiere: Eux Autres - "Right Again"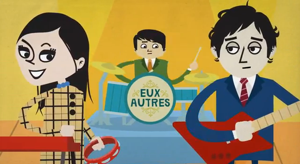 San Fransisco dwellers Eux Autres have come a long way in almost a decade, transforming from a brother/sister duo into a trio that has released three full-lengths, two EPs and five singles. Their music is self-described as "if the Field Mice met Black Flag in a dark alley and teleported them to a Francoise Hardy show, the songs they'd be humming together on the drive home might sound something like Eux Autres."
The band has a new video for "Right Again," a track off their latest EP, Sun is Sunk, which came out in February. The animated video features cartoons of each Eux Autres members playing together and getting into various forms of mischief: drinking pints with Frankenstein, marrying a robot and walking across a tightrope in order to escape an evil clown.
You can watch the exclusive video premiere of "Right Again" below.
Others Tagged With