Video Premiere: Ben Arthur - "So Far"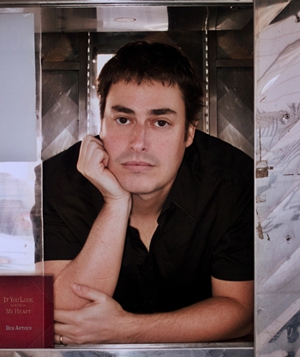 Ben Arthur is set to release his sixth album and second novel, both titled If You Look for My Heart, on Sept. 11. The two stand alone, but when enjoyed simultaneously come together like pieces of a puzzle to reveal an added dimension to the works.
"I think this is the first time anyone's done this," Arthur said. "But I will almost certainly be
proved wrong."
We have the video premiere of his song "So Far" from the upcoming 12-song collection. Amid a bustling city, two lovers try to reconnect as Arthur sings: So far /I want my last breath to be with you/So far/I want our grandchildren to be there too.
Check out the video for "So Far" and Arthur's upcoming tour dates below.
Ben Arthur Tour Dates:
September
13 - Arlington, Va. @ House concert
14 - Richmond, Va. @ House concert
15 - Harrisonburg, Va. @ WMRA, live on-air (noon)
15 - Harrisonburg, Va. @ House concert
16 - Lexington, Va. @ House concert
18 - Charlottesville, Va. @ WCNR, interview
18 - Roanoke, Va. @ House concert
18 - Roanoke, Va. @ WSLS, interview (1 p.m.)
19 - Charlottesville, Va. @ The Garage *
19 - Charlottesville, Va. @ WNRN, live on-air (9 a.m.)
22 - Philadelphia, Penn. @ House concert
October
12 - Cleveland, Ohio @ Wilbert's
14 - Bloomington, Ind. @ House concert
20 - Minneapolis, Minn. @ House concert
20 - Shoreview, Minn. @ House concert
November
10 - Fife, U.K. @ House concert
11 - Stainton, U.K. @ Stainton Village Hall
17 - Glooston, U.K. @ Glooston Town Hall
18 - Cambridge, U.K. @ House concert
w/ Phil St. Ours = *
Others Tagged With