Video Premiere: Joseph Arthur - "Where Is My Van?"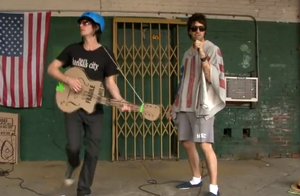 Joseph Arthur needs your help. Last week his van was towed, repossessed and sold at auction after a mechanic left it parked on a city street in New York. The van contained a large collection of priceless instruments, paintings and clothes that belonged to Arthur. Despite repeated attempts, he was unfortunately not able to ascertain the identity of the van's buyer from the City of New York, and the whereabouts of the van and its contents are currently unknown.
In an effort to replace his missing valuables, Arthur has scheduled a fundraising event, which will take place at New York's City Winery on Oct. 21. He also wrote a song lamenting the loss of his van called, simply, "Where Is My Van?" Arthur also filmed a video for the song, which you can check out below. The video's already received praise from R.E.M.'s Michael Stipe, who said the video is "the most f-ing awesomest ever music video since 'Nothing Compares 2 U.'"
Any information on Arthur's belongings can be reported to Carla Parisi (kidlogicmedia@gmail.com) or Peter Wark (peter@dkd.com).
You can also donate to the recovery effort through Arthur's website here.
Watch the video for "Where Is My Van?" below:
Others Tagged With